For Successful Laser Hair Removal in Gatineau, Say Goodbye to Old Habits Hello to New Ones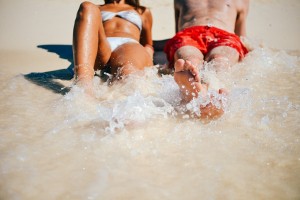 Even though you've always considered joyfully having hairless legs and armpits, you may be thinking a little bit deeper now about what it takes for successful laser hair removal in Gatineau. With an average of eight to 12 sessions every six weeks, this process requires a serious commitment. Over the course of your sessions, the pulsating light of the laser going through the hair follicles will result in the discontinuance of hair growth. This hair removal technique will also require that you change some of your oldest habits during the preparation for treatment. For the best results, follow these preparation guidelines:
Shave It Off
You may be wondering, why shave if you're going to get laser hair removal in Gatineau? If you're a frequent shaver–as many people are–you know how prickly your skin becomes a day or two after having shaved. Shaving allows the root to thicken in the follicle. For a successful treatment, it is recommended that you shave with a clean razor 24 to 48 hours before your next session. With a clean shave, the pulsating light will easily find the hair follicle. Then, the light is absorbed by the hair's pigment and transformed into heat, thus destroying the hair over time.
Stay Out of the Sun
For many people, tanning is a common relaxing activity. However not only does a tan put the effectiveness of the treatment at risk, there is also the potential for painful and serious side effects. For instance, skin lightening may occur if you have a treatment on the area of your skin that is tanned. Your specialist in laser hair removal in Gatineau will recommend that you stay out of the sun for at least six weeks prior to the beginning of your treatment. It is also recommended that you stay out of the sun throughout the process of your treatment.
Don't Wax, Don't Pluck
Among the things you should do while in preparation for laser hair removal, some of your oldest habits may have to be kicked to the curb. For instance, avoid waxing, plucking and electrolysis for at least four weeks before beginning laser hair removal in Gatineau.
For tanning lovers and waxing regulars, both your sunscreen and your razor will become your newest best friends while on the road to becoming hairless. You will appreciate your efforts once you start to see your hair growing back thinner, and especially when you realize that hairs have completely stopped growing. Book your free consultation for laser hair removal in Gatineau today!