Feel Confident with Laser Hair Removal and Cellulite Treatment in Gatineau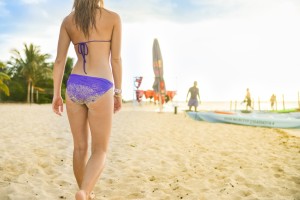 There's no time like the summer time—patios, sunshine, camping, cool drinks, and most importantly, the beach. There's just one problem: You don't feel comfortable baring yourself in a bikini just yet. In fact, you know that you'd feel much better, and much more confident, if you could just smooth out some of that skin and be free of unwanted hair in unwelcome places. Fortunately for you, there are ways to quickly and easily boost your self-esteem and hit the beach not only comfortable with yourself, but with a confidence that will be the envy of your friends and other beach-goers alike. Let's dive right in:
Cellulite Treatment
You've hit the gym—multiple times—and you've shed your winter pounds until you reached a comfortable weight, one that you think suits your body and your lifestyle. But there's still one little catch: cellulite. This fatty subcutaneous tissue seems impervious to exercise, and the dimpled appearance that it gives your skin is all too recognizable. You know with certainty that you'd just feel so much better if you could get rid of it, and give your skin a smooth, taut appearance in the places where it counts. A targeted cellulite treatment can give you firmer skin that is free from unsightly blemishes and textures. Such treatments can be used on any skin type, regardless of colour. The best part is that it's perfectly painless and requires no downtime—you could hit the beach the very next day following your cellulite treatment, with skin to feel proud of.
Laser Hair Removal in Gatineau
Armed with your razor, you've been fighting an uphill battle against body hair for as long as you can remember. You shave it as best as you can—making it as smooth as butter—and it seems that within a few hours, it's poking through the skin again, giving you cause to feel self-conscious about your legs and especially your bikini line. With a special bipolar radiofrequency and pulsating light technique, you can say goodbye to that feeling. Thanks to laser hair removal, Gatineau beach-goers can feel safe in the knowledge that the hair won't come back for weeks at a time. And even better, with additional treatments, the hair's regrowth becomes slower and slower. After a prescribed number of sessions depending on skin type and hair thickness, you can say goodbye to that unwanted hair for good. When you get laser hair removal in Gatineau, you can feel ready to hit the beach in your favourite bikini every day!